Posted by admin , on Apr, 2015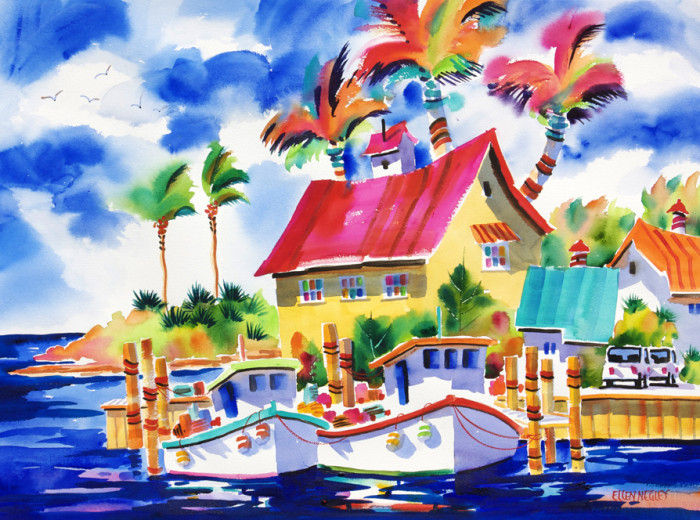 If you enjoy looking at watercolor paintings beach themes, then you have come to the right place here at Negley Watercolors. The artist we represent, Ellen Negley, has always enjoyed sketching or painting Florida scenes in the Miami and Delray Beach areas.
In fact, you can find plenty of Floridian sites to behold if you visit our various renditions of watercolor art. Some of the work will take you dockside in Tarpon Springs, Florida or permit you to stop by "The Avenue" in Delray Beach, Florida.
French Places to Visit through Watercolor Art
Besides watercolor paintings beach themed art, we, at Negley Watercolors, also feature artwork covering locations outside of Florida, particularly beautiful and quaint villages or enclaves in the rustic areas of France – places like Dordogne, St. Remy and Honfleur.
Check Out the Fusion T-Shirt that We Feature
We at Negley Watercolors also invite you to check out our fusion tees. These t-shirts are made of a quality fabric blend and are screen-printed with the watercolor rendering, entitled, "Sandy Shores." Buy your t-shirt today. We have a v-neck t-shirt in every size under the Florida sun. You can choose from small, medium, large, XL and 2XL as well.
Limited Edition Art
Whether you hang our featured watercolor artwork on your wall at home or wear it on your person, we at Negley Watercolors are happy to share our line of Florida and France watercolor paintings with you and your family. Some of the art that we invite you to check out in our online shop include such titled pieces as:
 *  "No Wake Zone"
 *  "Palm Beach Proper"
 *  "Saltwater Sunset"
 *  "Sand Bar"
Negley Watercolors Paintings
The above artworks are all limited editions. We at Negley Watercolors also invite you to view art that features points of interest and waterscapes in such popular Florida locales as Tarpon Springs, Delray Beach, Fort Meyers, and Jupiter, Florida. We also prominently feature a picture of Atlantic Avenue and a painting of the Colony Hotel, which are both located in Delray Beach.
Take a Look at Our Collection at Negley Watercolors – Browse at Your Convenience Online
Much of the art that we represent is focused on the city of Delray Beach, Florida. Once you review some of the paintings, you will find that the town is as interesting artistically as it is historical. Therefore, we, at Negley Watercolors, invite you to experience the same enthusiasm we have for the above-mentioned Floridian towns and locales. Visit us here often at our site to see what we mean.