Posted by admin , on Jan, 2017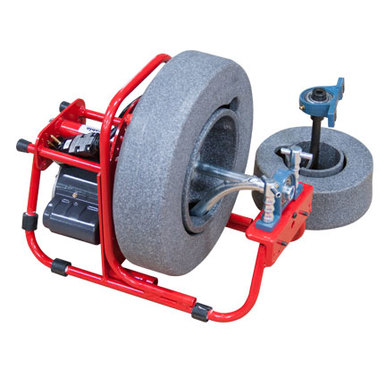 No matter what you call them, drain cables, sewer cables, cable snakes or drain snakes, they are the backbone of any commercial drain cleaning company. These modern plumbing tools are designed to easily slip through drain interiors and cut, plunge or bore through obstructions.
They are generally incredibly versatile and can be equipped with an array of blades and accessories, but not all drain snakes are made equally. There are obvious quality differences between manufacturers, (Duracable being the best of course), but there are also important differentiations designed into each brand's cables. All pipe systems are composed of diverse drains sizes and setups, so commercial drain snakes are manufactured with specific attributes to handle all these changing conditions. Carrying the correct type of drain snake can ensure the job is done efficiently on the first try.
Whether It's for Commercial or Residential, Drain Snake Diameter Matters
The most obvious differentiating factor for commercial drain snakes is their width. Standard drain snake gauges range from ¼' to ¾' with a handful of gradations between. The width of the drain snake dictates not just what pipes it will fit through, but how much force can be applied to it. Thinner cables are easier to navigate through bending drains with lots of traps but they are usually not strong enough to clear tough blocks. The inverse is true of wider commercial drain snakes; they are better for breaking up stubborn build-ups in relatively straight pipes.
Commercial Drain Snakes Have Varying Flexibility
The overall rigidity of a particular commercial drain snake is ones of its most crucial attributes. If a pipe's width or your cable cleaning machine's setup limits the cable size available to you for a job, there are other ways to find a cable with the needed strength or flexibility. Each of Duracable's commercial drain snakes comes in two varieties of rigidness, and the larger ones have three options.
Hollow drain snakes are the standard for many plumbers. They are the most flexible and work for the majority of residential clogs. When hollow cables may not have enough resilience to push through hard blockages, it is time to use a snake drain with a nylon inner core. For mainline and sewer problems, particularly tough clogs, we recommend our stiff, oil tempered sewer cables.
Duracable Manufacturing Produces High-Quality Commercial Drain Snakes
We want to ensure you have the best commercial drain snakes available on the market, so we test our all cables for quality and defects. If a coil does not pass, we send the whole thing back to our supplier. We are so sure of our drain snakes that they all comes with a 30-day warranty against material defects.
Durcacable Manufacturing supplies top of the line DuraFlex commercial drain snakes in a variety of length, width and rigidity. Make sure your crews have the cables they need to get all their diverse jobs done correctly. Contact a Duracable customer service representative today to get your company supplied with first-rate commercial drain snakes.