Posted by admin , on Apr, 2017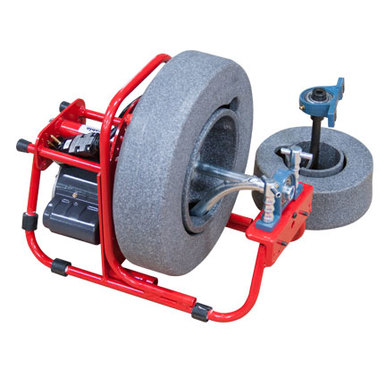 Whether you refer to them as plumbing snakes, drain snakes, or drain cables; they are the go-to tools for drain cleaning technicians when they encounter any kind of drain blockage. These cables are used with a cable machine and fed into drain lines to cut through clockages like debris, grease or roots.
Cables come in a range of sizes. There are 100ft-plumbing snakes that are used with heavy machines and meant to clear mainline drains. Then there are smaller snakes that are more suitable for residential work. However, it can be a little confusing to select the right plumbing snake for a job.
Smaller Plumbing Snakes
There are several types of plumbing snakes available for purchase. The smaller cable available and most commonly used in residential applications is the ¼" drain cable. These snakes have a often range between 25 feet to 50 feet of cable length and are ideal for clearing sink or bathroom blockages. They don't have the ability to deal with tough blockages, so are mainly intended for small plumbing lines in a home.
Then there are the slightly bigger snakes that are attached to mid level cable machines. These have a cable length of 50 to 120 feet and can work miracles for residential and commercial drains with tougher blockages like grease or roots that are obstructing drain lines from 4 to 10 inches in diameter.
100ft Plumbing Snakes for Mainline Drains
When working on mainline drains, you need a much longer and tougher cable to be able to reach the problem area. What length to go for can be a little hard to gauge. We feel a 100ft-plumbing snake is a safe bet. In most cases, this should be enough to reach the blockage stoppage easily. But there is always the chance that you may sometimes require even more cable.
100ft-plumbing snakes are available in ¾ or 11/16 inches in diameter and used for mainline drains up to 10 inches. Mainline blockages are usually much tougher than your run-of-the-mill residential blockages. Roots cause most of these, and you need strong snakes to be able to cut through them. Our plumbing snakes work like a charm as long as they are used properly. And even if they break somehow, they can be spliced and repaired on the spot.
DuraFlex Plumbing Snakes at Duracable
Duracable manufactures the DuraFlex line of plumbing snakes. All of our cables are thoroughly tested for quality and come with a 30-day guarantee. We only use top-of-the-line, quality-assured proprietary wire coils in our cables. These high-tensile, robust yet flexible coils, allow our cables to achieve a level of performance unheard of the in the industry.
DuraFlex cable snakes are synonymous with excellence. Whether you are in the market for 100ft plumbing snakes or any of the other numerous sizes of cable snakes available, you can be sure that we have something for you. Our snakes fit all applications. You may want to work on smaller residential drains with ¼ inch cable, or you may be looking for something to deal with sewer mainlines. Rest assured, you can depend on us to address your needs. Visit our website or get in touch with us for more information about our drain cables.