Posted by admin , on Jun, 2018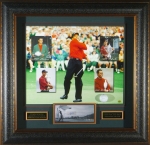 The U.S. 2018 Golf Open Tournament officially started on Thursday, June 14, 2018 and will end on Sunday, June 17, 2018. The venue this year is at the Shinnecock Hills Golf Club in New York. Excitement is in the air and gulf enthusiasts can't help but to openly display their anticipation and enthusiasm as the tournament kicks off.
Who Are Some of the 2018 US Golf Open Players That Fans Are Vying For?
Tiger Woods: The first name that comes to mind is Tiger Woods, a 14-time major champion. According to cbssports.com, all eyes will be fastened on Tiger Woods throughout the tournament. Furthermore, Woods is also anticipating his first victory in 5 years.
So, if you are a Tiger Woods fan, you will understand why during the months and weeks leading up to this tournament, golf galleries, souvenir shops, and other golf outlets were overcrowded with busy golf shoppers. Without a doubt, Tiger Woods Souvenirs are a 'must have' this tournament, simply because his dedicated and supportive golf fans are passionate about his game.
Phil Mickelson: Although critics are saying that Phil Mickelson cannot manage three straight weeks of golf, he is certainly one to have an eye on. Moreover, his fans believe that he is on the right track, has an interesting history, and is hungry for victory.
Mickelson fans also know that he was in the top five at Shinnecock and is currently "10th in strokes gained approaching the green" and are also showing increased interest in Mickelson's memorabilia. That's a great sign!
Dustin Johnson: Now, everyone seems to be talking about Dustin Johnson. As a matter of fact, CBS Sports writer, Chip Patterson, predicted that Johnson will emerge as the winner of the 2018 U.S. Golf Open. To be precise, here are his exact words:
"the 2018 U.S. Open runs through Dustin Johnson. There's not another golfer on the planet who has been better over the last three years than DJ…"
Johnson's fans also share the same sentiment, as they believe that out of all the long hitters, Dustin Johnson is the straightest.
Jason Day: Australian, Jason Day, is another one of the crowd's favorite. Surprisingly, Steve DiMeglio from USA Today believes that Jason Day will be the winner of the 2018 U.S. Golf Open.
Day's autographs and frames have also increased in sales since the start of the opening. But, this is no surprise because he is ranked number 8 in the world and is the winner of the 2015 PGA.
Why Are Golf Fans Going All Out to Purchase Souvenirs?
It's no secret! Golf fans worldwide are captivated by the 2018 US Golf Open and want to cheer and support their favorite players. In doing so, they see it fit to have in their possessions souvenirs or flags to show that they are patriotic fans.
Where can Golf Fans Purchase Golf Souvenirs?
While Merchandise outlets at the Shinnecock Hills Golf Club are attracting shoppers with its wide variety of golf items, golf fans who are unable to attend the event have the option of making their purchases online.
Several online galleries, such as the Millionaire Gallery, have extensive catalogues of golf collectibles and autographs for golf fans to make their choices. Surely, purchasing an autographed golf display or even a Masters Badge collection are indeed wise choices.
Finally, golf enthusiasts have every right to be excited about the 2018 U.S. Golf tournament. But the question is, who will emerge the winner? Well, come Sunday evening, excited golf fans who are eagerly waiting for the game to wrap up will at last exhale triumph when their favorite player wins.
And for all the fans who have gone all out to purchase their souvenirs, it is quite clear that you understand the fact that "you cannot change history but can own a part of it!"