Posted by admin , on Jan, 2018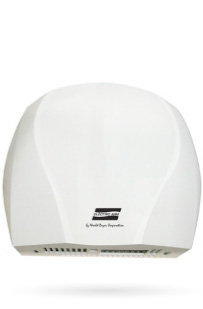 A company's reputation hinges many factors, including its customer service, the quality of products and services, the cleanliness of its building and its restrooms. If you're reading the last part and wondering how a building's restrooms affect the business's reputation, think about the impression you get when you walk into a dirty restroom versus a well-kept one: it's the difference between night and day, isn't it? The appearance of a business's restrooms tells users that the company either takes pride in its appearance or it doesn't and that it is concerned with details or it's not. Because of this, every aspect of your own business's restrooms should be immaculate, down to every last hand dryer.
Bathroom hand dryers can give your business a positive image, as well as reduce the cost of maintenance and energy. If you want to send your visitors a positive impression, start with replacing your old towel dispensers with hand drying technology.
Improve Appearance
When businesses use paper towels instead of hand dryers, they have to worry about litter and trash build-up, both of which can look unsightly to the average observer. Hand dryers, however, do away with trash and the need for trash cans entirely, giving your restroom an overall classier appearance.
Reduce Maintenance Costs
You may not think about how much time your cleaning crew spends picking up and taking out the trash, but over the course of a week, the time can add up. If your cleaning crew spends just ten minutes per restroom picking up stray paper towels, taking out full trash bags, replacing them with new ones and refilling paper towel dispensers, that's an entire hour spent you're paying for because people washed their hands. Talk about frivolous expenditure. Bathroom hand dryers can reduce the time spent cleaning up and taking out the trash and save you hundreds of dollars in cleaning expenses each month.
Increase Sustainability
Hand dryers are much more eco-friendly than paper towels, a benefit that is twofold. For one, it gives visitors a positive impression of your company, as people are more likely to favor eco-friendly businesses than those that don't take care of the environment. Secondly, increased sustainability means more cost-savings for you. Hand dryers are made to be energy efficient, meaning that the cost to run one is still far less than the cost of replacement paper towels.
Bathroom hand dryers could be just the investment that your business needs to make this year. Improve the appearance of your business, reduce maintenance costs and increase sustainability with new dryers for your restrooms. Visit the website for more information.