Posted by admin , on Oct, 2017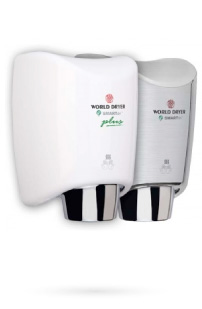 You've probably grown up hearing the phrase "looks aren't everything" over and over again. While this is certainly a good adage for individuals' personal lives, it unfortunately, does not hold true when it comes to running a business of any sort. The way your facility looks and feels does, in fact, have a huge effect on your relationship with customers, and therefore your bottom line.
One of the most important areas of your establishment by far is the bathroom. While you wouldn't think so, this is one of the spaces your customers are most likely to note during their visit, and a bad experience could send them packing for good. That's why it's important to invest in the best of the best when it comes to designing these spaces. A good place to choose is by learning how to select the best hand dryer from the bunch.
Style
The first thing most customers making their way into your restroom area will notice is its appearance. Your hand dryer contributes more to this overall impression than you may think. That's why it's crucial to select something chic, something smooth and modern if you really want to make a good impression. Whether you're looking for something modern with LED lights or just an improvement on the classic model, be sure to choose something that looks as nice as it works. Furthermore, some hand dryers are vandal-proof, which prevents guests from ruining your investment, and keeps your bathrooms looking brighter and cleaner for longer.
Specialties
It's always good to assess your business's specific needs before making a purchase of this type. If your business is one that requires silence (such as a massage therapy center or spa), you can still enjoy the conveniences of hand dryers in your bathrooms. There are completely silent styles to consider, which use light rather than heat to zap away moisture. There are also styles that are specifically made for high-traffic areas, with less heat and more power than other models.
Efficiency
You might think a hand dryer doesn't use much energy throughout the day, but you'd be wrong. With constant use, these small bursts of heat generation can certainly add up when it comes to your daily energy expenses. That's why it's imperative to pay attention to efficiency settings and details when looking for the best hand dryer for your business. Some are built to be more efficient overall, while others might include settings such as heat on/off and lower wattage.
First impressions are important as a small business owner. While getting the best hand dryer for your bathroom may feel like an odd first step forward, it's a starting point nonetheless, and one your future customers are sure to appreciate in the long run.