Posted by admin , on Dec, 2017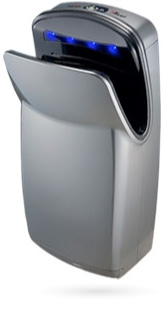 With so many hand dryer choices, selecting a model that suits your needs could be a daunting prospect. However, when choosing the best hand dyers for your needs, your decision can be simplified by considering the following five factors.
Noise
Typically, the volume of a dryer correlates with its power, so louder units have stronger motors and, therefore, increased noise. If the volume of a hand dryer would be a distraction to your business, then you'd want to consider a quieter model that operates at a slower speed.
Power
A hand dryer's power comes from the type of motor operating the machine. The more powerful motors offer a higher level of heat and therefore, shorter drying time. So, when considering a model's power, you will also want to consider how it affects the model's speed and drying capacity.
Speed
Hand dryers are considered a time efficient and eco-friendly option that are also hygienic. Models that operate at a fast speed will dry hands more quickly, and most likely, many people would prefer this. Dryers operating at a slower speed do not produce as high a level of heat and therefore, take longer to dry hands. You'd run the risk of impatient users leaving the bathroom with damp hands which could possibly spread bacteria.
Cost
There are many cost-effective choices as well as higher priced alternatives. As with other consumer products, high cost can correlate with durability and appearance as well as function. You would want to select a model that suits the type of customer you serve. The pricier models have options, the less expensive do not include. Higher end dryers might offer a stylish design, perform automatically using an infrared sensor or have greater energy efficiency.
Longevity
The lifespan of a hand dryer depends on the model's motor affecting speed and power. If you anticipate a high volume of use, then you'd want to consider a model that could withstand a lot of wear and tear. The type of warranty for a dryer is a good indicator of longevity. Strong warranties are usually offered with durable models.
Right for Your Business
Finding the best hand dryers for your business is an investment of your time and money. Considering certain factors such as noise, power, speed, cost, and longevity are important qualities to evaluate for an informed decision. By making a purchase that makes the most sense for your business, you can then feel confident you've made a good choice.